Twenty Lucky Classrooms Will Win a
Third Grade Baby Box O' Fun!
Enter Today!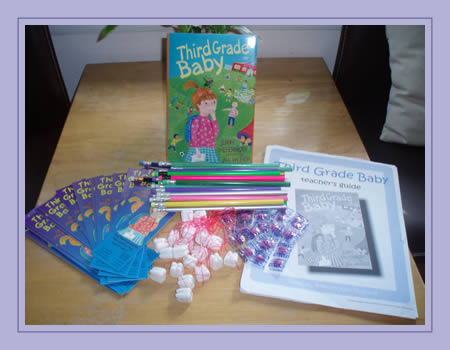 The Prize:
An autographed copy of Third Grade Baby by Jenny Meyerhoff. Third Grade Baby goody bags for every student in your classroom, including pencils, bookmarks, tattoos and more! A one-hour virtual classroom visit with the author via Skype or AIM. (Classrooms in the Chicago area will receive a live visit.)

To Enter:
Parents, teachers, librarians, anyone may enter their favorite classroom! Simply send an email to contest@jennymeyerhoff.com with the teacher's name, school's name, grade of the class and school address of your favorite classroom. Be sure to include your name and email address as well.

The deadline to enter is September 30, 2009 and a random drawing will take place on
October 1, 2009. Winners will be notified by email and the winning classrooms will be posted
on Jenny's blog.

Email contest@jennymeyerhoff.com to enter!
Download the Third Grade Baby
Curriculum Guide for FREE!
Color or Black & White

Complete Contest Rules: Only one entry per person is permitted. [Entrants must be 18 or over.] Only electronic entries will be accepted. Jenny Meyerhoff and JennyMeyerhoff.com are not responsible for any unreceived entries. Illegible or incorrect entries will be discarded. Odds of winning are dependent upon the number of entries received. Winners will be selected by a random drawing held on October 1, 2009 and will be notified by e-mail. Twenty teachers will each win a THIRD GRADE BABY classroom kit and a virtual one-hour visit with Jenny Meyerhoff. Schools located within the Chicago metropolitan area will receive a live classroom visit with Jenny Meyerhoff. Jenny Meyerhoff will coordinate all virtual classroom visits with the random drawing winners. For a list of winners, visit Jenny Meyerhoff's blog www.thepurpledesk.blogspot.com after October 7, 2009.